iOS 11 was released to the public on September 19, 2017 and is now available for download on the iPhone 5s and later, the iPad mini 2 and later, the iPad Air and later, all iPad Pro models, and the sixth-generation iPod touch. It is the next-generation version of iOS. Apple's CEO, Tim Cook said on stage that, "the update takes the best and most advanced operating system and turns it up to 11."
iOS 11 is bringing "subtle design changes" to interface elements throughout the operating system. Text is going to be bolder; applications like Calculator and 'Phone' are going to have a new look, the Lock screen and Control Center have been entirely redesigned.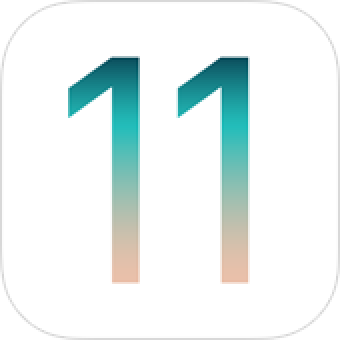 The Control Center can be customized and there are options to include a wider range of settings. It's no longer split across multiple screens, and 3D Touch integration has expanded, so you can do more without needing to open the Settings app. The Lock screen has been merged with the Notification Center. Swiping down on the screen to access notifications now brings up the Lock screen. There's no separate Notification Center anymore.
Siri has a more natural voice and is more intelligent than ever. Siri can also translate English into different languages like Spanish and Chinese.
Apple has introduced a number of new features for the iPad that make it more efficient than ever before.
The keyboard will have new features like a one-handed keyboard on the iPhone and a "Flick" option for typing numbers and symbols more quickly on the iPad, and many of the built-in Apple apps have new functionality and feature updates.
Notes will include "searchable handwriting" and "document scanning" Maps gains lane guidance, speed limit info, and indoor maps for malls and airports, while Apple Music includes a new feature that lets you see what your friends are listening to and share your own music. The Memories feature in Photos is smarter than ever, and in the Camera app, Portrait Mode and Live Photos have been improved with new capabilities.
Messages will have a support for a new person-to-person Apple Pay feature which will let you send money to friends and family right through an iMessage, and iMessages themselves will be stored in iCloud, with both features coming in a future iOS 11 update. Photos and videos also take up less space through the adoption of new HEIF and HEVC formats.
The App Store has been completely revamped in iOS 11